For a list of items required to do Cutting Tests, see Item List
In Shinken, your swords are grouped by the degree of their sharpness. Higher sharpness allows your sword to deal more damage and increase their stats in general. When smithing a sword, the amount of heat will decide how sharp it will be.
There are five sharpness levels: Blunt, Wazamono (good), Ryo-wazamono (very good), O-wazamono (excellent) and Saijo O-wazamono (best)
You can improve them by performing Cutting Tests and also unlock a girl's special ability.
Please note that swords with a higher sharpness will need much more experience. It is recommended to level them to lvl.100 first before you improve their quality.
Implementation
Edit
On each sharpness level you have to pass ten tests. Completing a test will unlock the next one for this sword. Completing all ten test will improve your sword and unlock the next level. To perform one you need all required items and a certain amount of heat.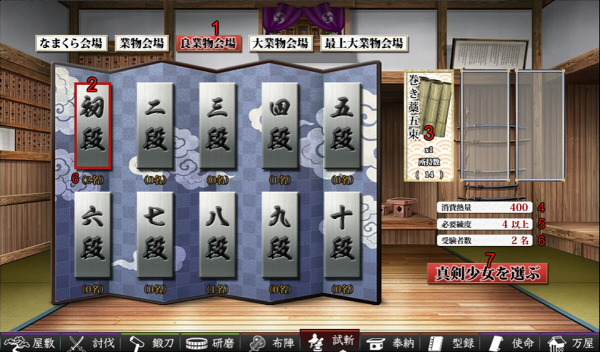 1) Different levels
2) The ten stages
3) Required items plus the amount you currently own
4) Required heat
5) Required sword level
6) Swords that are currently able to perform the test
7) Select button
There is usually a certain likelihood that the test will be successful, but when your sword is not damaged in any way, the chance for success will always be 100%.
Unlock skills
Edit
A girl's skill will be enabled when completing the third test on a level for the first time
Sharpness Levels
Edit
The sharpness level of a sword is indicated in the colour of her background. The colours are green (blunt), red (good), silver (very good), gold (excellent) and rainbow (best).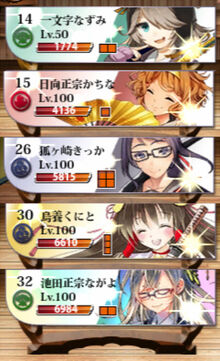 Stage Requirements
Edit
| Stage | Items | Heat | Lv Req | Pass rate | EXP Acquired | Notes |
| --- | --- | --- | --- | --- | --- | --- |
| 1 | Straw bundle x1 | 200 | 2 | 98% | 240 | |
| 2 | Bamboo x1 | 300 | 4 | 92% | 360 | |
| 3 | Carton x1 | 400 | 6 | 88% | 480 | |
| 4 | Straw bundle x3 | 600 | 8 | 84% | 720 | |
| 5 | Bamboo x3 | 800 | 12 | 80% | 960 | |
| 6 | Three Straw bundles x1 | 1000 | 15 | 78% | 1200 | |
| 7 | Tatami x1 | 1200 | 18 | 74% | 1440 | |
| 8 | Tile x1 | 1500 | 22 | 70% | 1800 | |
| 9 | Paper x1 | 1800 | 24 | 66% | 2160 | |
| 10 | Watermelon x1 | 2000 | 28 | 62% | 2640 | |
Wazamono (good)
Edit
Stage
Items
Heat
Lv Req
Pass rate
EXP Acquired
Notes
1
Straw bundle x3
300
3
94%
360
2
Bamboo x2
Three straw bundles x1
450
6
90%
540
3
Three bamboos x1
600
9
86%
720
4
Tatami x1
Three straw bundles x1
Tile x1
900
12
82%
1080
5
Paper x2
Wooden plate x1
1200
18
78%
1440
6
Three tatamis x1
Watermelon x1
1500
22
76%
1800
7
Five tiles x1
1800
26
72%
2160
8
Kabuto (average) x1
2250
32
68%
2800
9
Stump x1
2700
36
10
Rice cake x1
3000
42
Ryo-wazamono (very good)
Edit
Stage
Items
Heat
Lv Req
Pass rate
EXP Acquired
Notes
1
Five straw bundles x1
400
4
92%
480
2
Three straw bundles x2
Three Bamboos x1
600
8
86%
720
3
Wooden plate x1, Five Bamboos x1
800
12
82%
960
4
Three tatamis x1
Five straw bundles x1
Five tiles x1
1200
16
78%
1440
5
Three wooden plates x1
Kabuto (average) x1
1600
24
6
Five tatamis x1
Stump x1
2000
30
7
Ten tiles x1
Rice cake x1
2400
36
8
Kabuto (good) x1
3000
44
9
Stone lantern (average) x1
3600
48
10
Megalith x1
4000
56
O-wazamono (excellent)
Edit
Stage
Items
Heat
Lv Req
Pass rate
EXP Acquired
Notes
1
Five straw bundles x2
Five bamboos x1
600
6
90%
720
2
Steel beam x1
Kabuto (average) x1
900
12
84%
1080
3
Three wooden plates x1
Five tatami x1
Ten tiles x1
1200
18
80%
1440
4
Five wooden plates x1
Helmet (good) x1
1800
24
5
Stone pug x1
Stone lantern (average) x1
2400
36
6
Three steel beams x1
Megalith x1
3000
44
7
Mailbox x1
3600
52
8
Kabuto (excellent) x1
4500
64
9
Stone lantern (good) x1
5400
72
10
Devilhead rock x1
6000
84
Saijo O-wazamono (best)
Edit
Stage
Items
Heat
Lv Req
Pass rate
EXP Acquired
Notes
1
Steel beam x3
800
8
88%
960
2
Three steel beams x1
Five plates x1, Watermelon x1
1200
16
80%
3
Kabuto (good) x1
Stone lantern (average) x1
Rice cake x1
1600
24
4
Stone pug x1
Stump x1
2400
32
5
Kabuto (excellent) x1
Stone lantern (excellent) x1
3200
48
6
Five steel beams x1
Mailbox x1
4000
60
7
Megalith x1
Devilhead rock x1
4800
72
8
Stone pug (excellent) x1
6000
88
9
Stone lantern (excellent) x1
7200
96
10
Devilhead rock (excellent) x1
8000
99